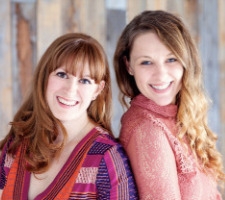 Together, we bring a passion for what we do, to you! Photography has always been a huge part of our lives. We both have college degrees in photography and are both working commercial photographers. Individually we have owned our own businesses, published our own magazines and books, and have successfully crafted our lives around our love of photography.
We met a few years ago on a photography set for a mutual client and have created imagery together for over 7 years. We have both since then started our own families and gone off to do wondrous things but keep coming together all for art's sake. So here we are, just for you.

Xoxo, Katie and Jena

P.S. In case you were wondering... Croí, [kree] Gaelic noun | "heart"
P.P.S. We can't wait to meet you!